THE WORLD FAMOUS MODICA CHOCOLATE SHOP
SABADì MODICA CHOCOLATE SHOP
Corso San Giorgio 103/105 – 97015 Modica – RG – Sicily
You can find the Best Modica Chocolate next to the Cathedral of San Giorgio in Modica, a splendid baroque cathedral with a massive staircase recognised by UNESCO as a World Heritage Site. Surrounded by centuries-old beauty, you will find the Sabadì Shop with all the productions of chocolate, organic candies, nougats and bibite madre inside it.
The natural stone of the walls and the high vault, the works of art on the ceiling evoking freedom with the light flight of swallows, the green plants, the wood of the minimalist furnishings, the music in the background, and the delicate lights turn this place into the Sabadì Temple of Taste and Beauty.
You can taste all kinds of chocolate at the Sabadì Shop, located at Corso San Giorgio 103/105, in Modica. You will be welcomed by friendly and prepared staff who will explain how the best Modica chocolate is made and to guide you through the tasting, according to your interests, tastes and the time you have available.
Sabadì has won the award for Best Modica Chocolate in the Quality Chocolate Oscars for 9 consecutive years.
the first chocolate ageing cellar IN THE WORLD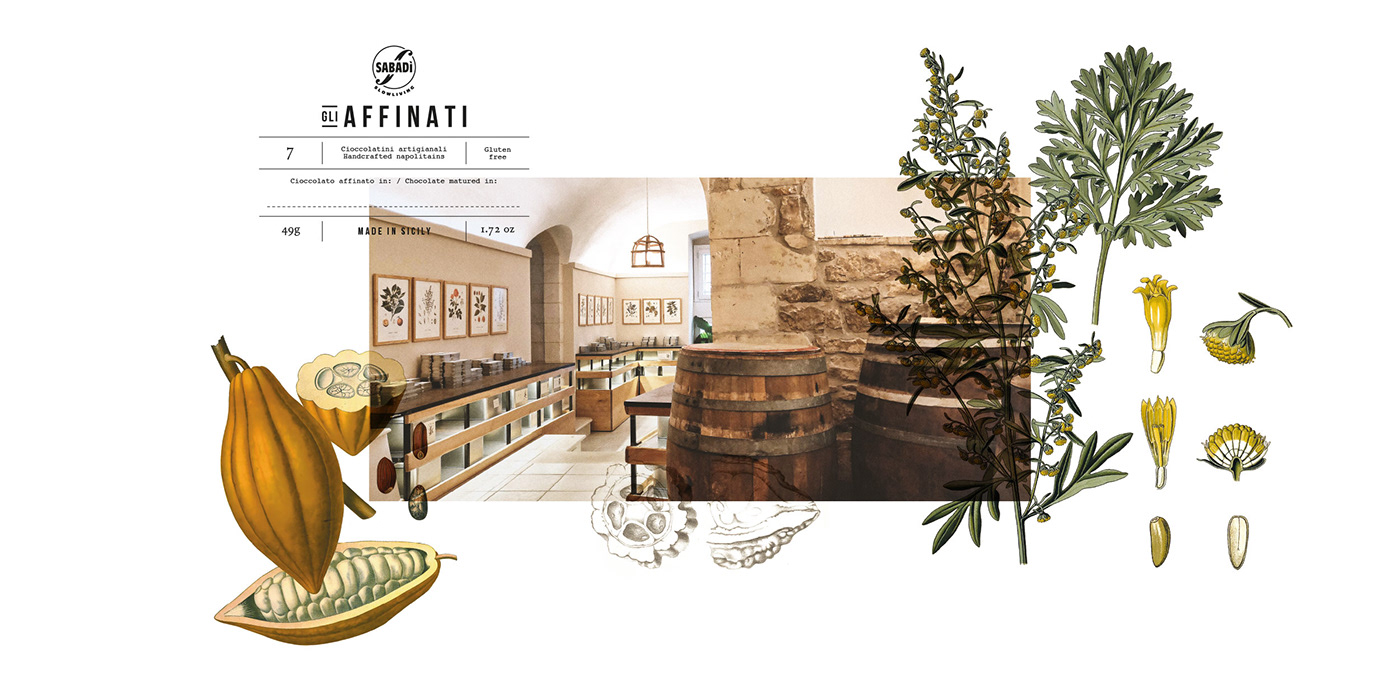 In Modica, the Sabadì Shop is home to the First Chocolate Ageing Cellar in the World, a place with an elegant, fascinating and magical atmosphere. In the Ageing Cellar you can find chocolates that have been scented through contact with fragrant elements: tobacco, teas, flowers, herbs, resins, spices and casks.
You can watch the ageing process, taste and buy the only naturally flavoured chocolates- Sabadì Aged Chocolates. Flavouring by ageing takes place inside metal boxes and inside casks soaked in rum, brandy, barolo chinato, pink moscato, and Baladin smoked beer.
Sabadì is the only producer that flavours chocolates by ageing. This particular process consists in the migration of invisible fragrant particles: from the elements that have been selected to the chocolate; in detail, the cocoa butter (fat component of chocolate) absorbs and fixes the scent of flowers, tobaccos, etc.
Thus, when tasted, each chocolate will have a particular taste and scent; there are no flavour enhancers among its ingredients.
The chocolate aged in Danish Cherry tobacco was the Best Modica Chocolate in 2018, awarded with the Golden Bar prize by the Compagnia del Cioccolato.
The entire Aged Chocolates range was the Best Flavoured Chocolate in 2019 and in 2020