MODICA CHOCOLATE: WHAT IT IS AND HOW IT IS MADE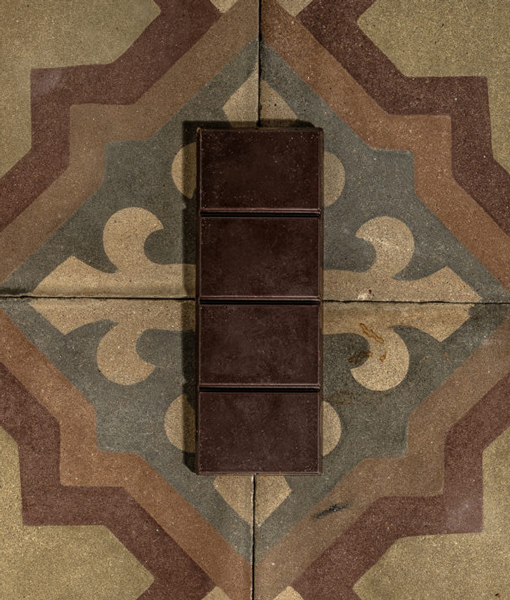 Sabadì Dark Modica Chocolate
Handmade dark Modica chocolate with 70% cacao
Modica Chocolate is a traditional sweet in Sicily; it is typical of Modica, a lovely baroque town in the south-east of Sicily.
Modica Chocolate is different from other popular chocolates:
Modica Chocolate is mainly made with cocoa and sugar mixed in a cold-working process. It has no added fats; in fact, it contains only the cocoa butter that is naturally present in cocoa beans.
Such cold-working process (ingredients are never heated above 45 C) keeps sugar crystals whole in the chocolate bar.
Thanks to such low processing temperatures, sugar does not dissolve; what's more, all the beneficial properties of cocoa are kept intact.
Modica chocolate can be dark and flavoured with citrus fruits and spices.
This is why Chocolate of Modica is different from many other chocolates made in the rest of the world. It is typical of the city where it has been made in the same way for centuries.
It was so made by the Spanish in Modica, as well as in other places, while they were ruling the Kingdom of Sicily between 1500 and 1700. Beans and sugar were produced abundantly in the conquered lands of South America.
Modica chocolate is the first and only PGI chocolate, a mark of origin and protection of typical European Community products
THE HISTORY OF MODICA CHOCOLATE
In the wonderful South-East of Sicily, in the baroque town of Modica, a different chocolate has been made for more than 250 years
WHERE TO BUY MODICA CHOCOLATE
Find out where to buy the Best Modica Chocolate, whether you are en route to Sicily or you want to receive it at home
MODICA CHOCOLATE
TOURS AND TASTINGS
If you are planning a trip to Modica or you are already in Sicily, you can see how it is made, and can taste it for free!
THE BEST MODICA CHOCOLATE

In addition to being a typical sweet, highly representative of the town where it is made, Chocolate from Modica can be very good and beneficial for your health if it is the Best Modica chocolate made by Sabadì.
Sabadì makes excellent cold-processed, organic, Fair-Trade, Slow-Food chocolates, paying special attention to the processing and selection of raw materials.
Thanks to his remarkable skills and steadfastness, Simone Sabaini, Sabadì's heart-mind-palate and Modica citizen by choice, was the first Modica Chocolate producer to commit himself to solving its main defect: cocoa butter emerging on the surface of Modica Chocolate and the consequent alteration of its organoleptic properties. And he was able to do it successfully.
Thanks to the improvement of processing, Sabadì has been able to produce an excellent Modica chocolate that remains intact for over a year, as if it had just been made, and always following the ancient recipe used by the Spanish centuries ago.
For nine consecutive years, Sabadì has recognised as the Best Modica Chocolate and was presented with the 'Golden Bar' during the Chocolate Oscars awarded by the Compagnia del Cioccolato. Today our chocolate can be found in the most quality-conscious grocery stores around the world.